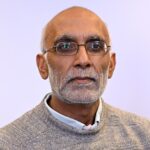 Pakistan Society of Basic & Applied Neuroscience (PASBAN) is organizing Neuroscience Educational Webinar Series (NEWS). NEWS will be virtual educational webinar series. The format will be 45 minutes of presentation, 15 minutes of Q/A, and 20 minutes of general discussion. There is no fee for the participants, but pre-registration will be required.

Our cardinal objective for organizing NEWS is to improve the neuroscience concepts, enhance neuroscience research in Pakistan, and stimulate other academic and organizational activities to help PASBAN achieve its mission and goals so that the future generations are fully engaged in more rigorous East-West collaborations for the good of humanity.

The Zoom link will be shared with registered participants only.
Upcoming Sessions:
List of sessions | 2022
1. What are memories made of? Learning through Neuronal Plasticity
By: Professor Zafar Bashir
January 5, 2022
2. Generation of new neurons in the adult and aging brain
By: Dr. Mariela Trinchero
February 2, 2022
3. Thinking with your eyes shut
By: Professor Matt Jones
March 2, 2022
4. Role of Artificial Intelligence in Telestroke: An overview
By: Dr. Junaid Kalia
April 6, 2022
5. In search of Potent Novel Targets to develop Therapeutic Drugs
By: Dr. Sonia Siddiqui
May 11, 2022
6. Sleep – the key to brain health
By: Dr. Liz Coulthard
June 1, 2022
7. Utilizing Quantitative Electroencephalogram for diagnosis and prognosis in Mental Health
By: Dr. Soyiba Jawed
July 6, 2022
8. Whisker System of rats: Neural circuitry and behavior
By: Dr. Mehwish Bhatti
August 3, 2022
9. AI in Neuroimaging – The Way Forward
By: Dr. Sadia Shakil
September 7, 2022
10. Investigating the Neuropsychological effects of Antidepressants in a translational rodent model
By: Prof. Emma Robinson
October 5, 2022
11. Application of machine learning to identify and localize traumatic brain injury (TBI) using Meg in clinical setting
By: Dr. Waqas Rasheed
November 2, 2022
12. EEG Evidence for Sundowning in Amnestic Mild Cognitive Impairment
By: Ricky Chow
December 7, 2022
List of sessions | 2023
NEWS Steering & Logistic Committee