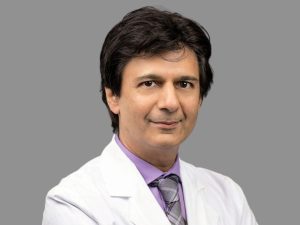 Dr. Nazer H. Qureshi is a Diplomat of the American Board of Neurological Surgeons with outstanding international experiences in surgery, research, and academics. He is a Fellow of the American College of Surgeons, the American Association of Neurological Surgeons, and the International College of Surgeons. He has worked on three continents and presented his research at medical conferences in the United States, Europe, and the Far East.
Dr. Qureshi's clinical interests include primary and metastatic brain tumors, skull-base tumors, including foramen magnum meningiomas, and intradural, extradural, and intramedullary spinal cord tumors. He also has expertise in radiosurgery (gamma-knife) and is seasoned in open and minimally-invasive complex spine surgery techniques, including anterior lumbar interbody fusion, transforaminal lumbar interbody fusion, posterior lumbar interbody fusion, retroperitoneal corpectomies.
Dr. Qureshi completed his three-year research fellowship at Harvard Medical School/Massachusetts General Hospital, studying novel gene therapy delivery techniques for malignant brain tumor treatment. He formerly served as a Junior Faculty Member at Trinity College, University of Dublin in Ireland. He received the Professor Iftikhar A. Raja Humanity in Medicine Award at the University of Arkansas for Medical Sciences. Dr. Qureshi has authored over 50 publications, papers, abstracts, and book chapters and has over two decades of surgical experience. He is the Director of the Brain Tumor Program at The Hospital of Central Connecticut under the Ayer Institute of Hartford healthcare system and has two academic affiliations as Assistant Professor with Quinnipiac University, Netters School of Medicine, and the Neurosurgery section of the Department of Surgery at the University of Connecticut.
.