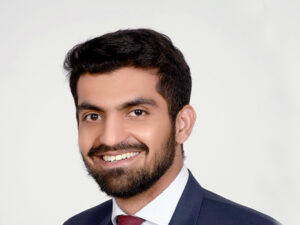 Dr. Ahmed Altaf graduated from Ziauddin University in 2020 with a Bachelor of Medicine and Bachelor of Surgery (MBBS) degree. He then completed his internship at Aga Khan University Hospitals, where he gained valuable experience and honed his skills. Throughout his medical education, Dr. Altaf was involved in various areas of neurosurgical research, which sparked his interest in the field.
Dr. Altaf is currently leading a research project on the use of ultra-low-field portable Magnetic Resonance Imaging (pMRI) for the assessment of brain tumors. This project aims to make neuroimaging more accessible, particularly in low- and middle-income countries. In addition, he has a strong interest in the use of artificial intelligence and genomics in neurosurgery.
Dr. Altaf's ultimate goal is to make a positive impact on the lives of his patients, and his passion for research and commitment to innovation is evident in his work. He is looking forward to continuing his contributions to the field of neurosurgery through his future work and research as he prepares to embark on a Neurosurgical residency.